Painting A Better Future with Doo!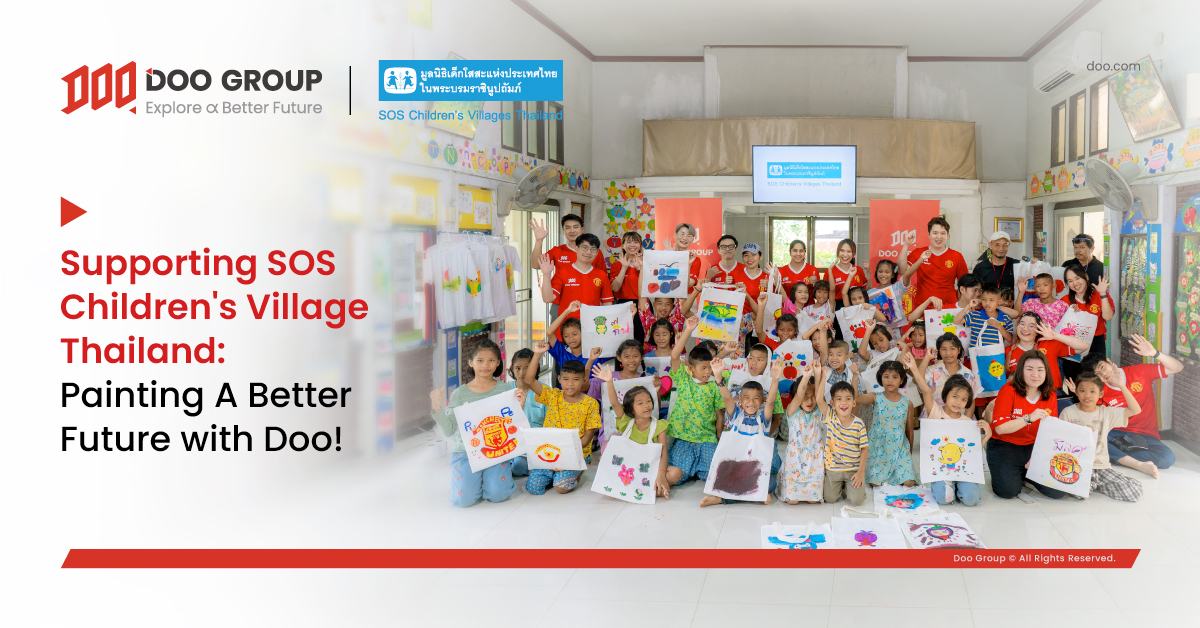 In our steadfast dedication to supporting underserved communities, Doo Group has recently provided substantial assistance to SOS Children's Villages Thailand. Established in 1971, this organization operates across 5 villages throughout Thailand, providing a loving home for children without parental care, with a total of 700+ residents. Their mission is to ensure that every child experiences a nurturing family-like environment filled with love, security, and essential provisions.
Doo Group's support reinforces this mission, illustrating our commitment to making a meaningful difference in the lives of those in need.

Doo Group's recent charitable endeavor centers on the transformative power of art, reflecting the company's commitment to CSR, global outreach, and cultural diversity.
We believe that art is a powerful tool to stimulate imagination that transcends the cultural and geographical boundaries to drive innovation. Therefore, Doo Group is committed to enhancing children's education and nurturing a brighter future for them. Our aim for this visit is to use art as a powerful tool to stimulate the imaginations of children and provide the support needed for their growth.
Providing A Hand and Artistic Philanthropy For A Brighter Tomorrow

Doo Group's decision to support this cause comes with an aim to brighten the lives of children in need. In 2022, SOS Children's Village Hat Yai faced critical challenge of outdated family house facilities. To ensure that their daily lives are secure, Doo Prime contributed THB 350,000 to support the renovation project. As a result of these efforts, the family houses have been transformed into safer and more comfortable spaces for the children.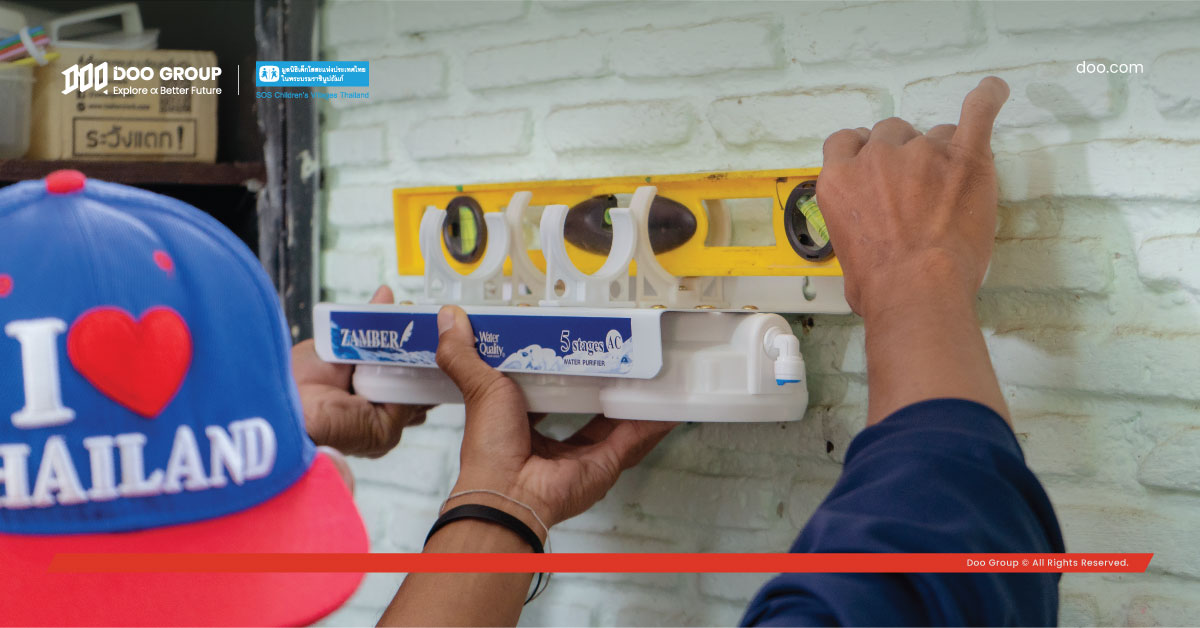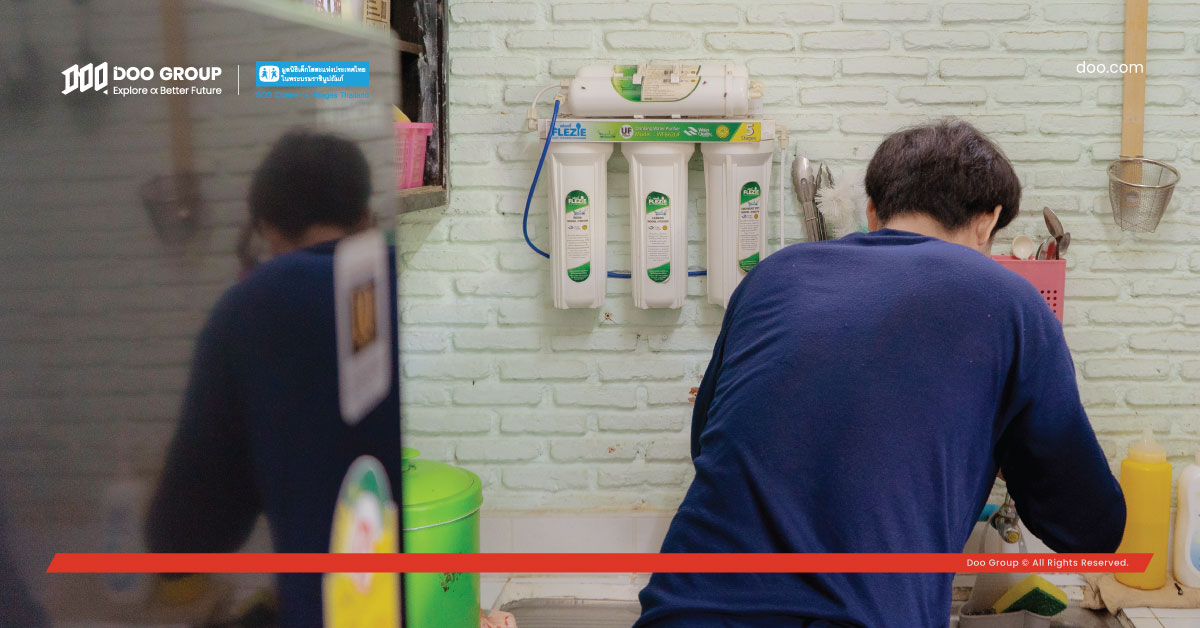 Moving forward to 2023, in SOS Village Bangpoo, Bangkok, we continued our commitment to supporting children. We performed a follow-up on the progress of house renovation, ensuring a secure and adequate environment for them. Additionally, we donated and installed household water purifiers to ensure a clean water supply.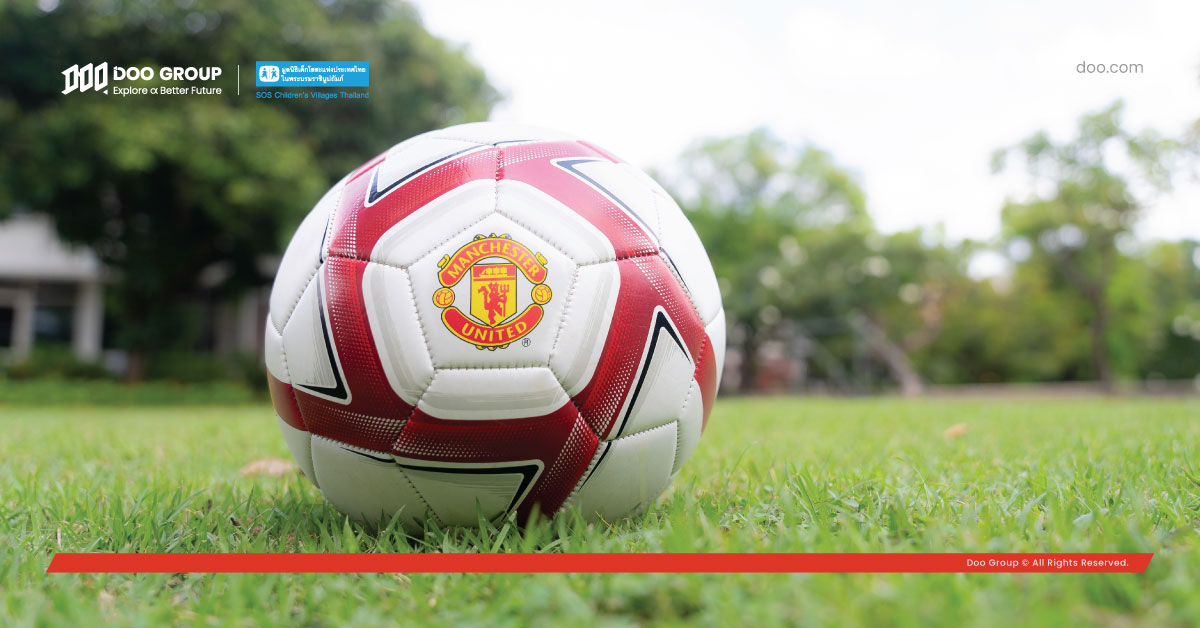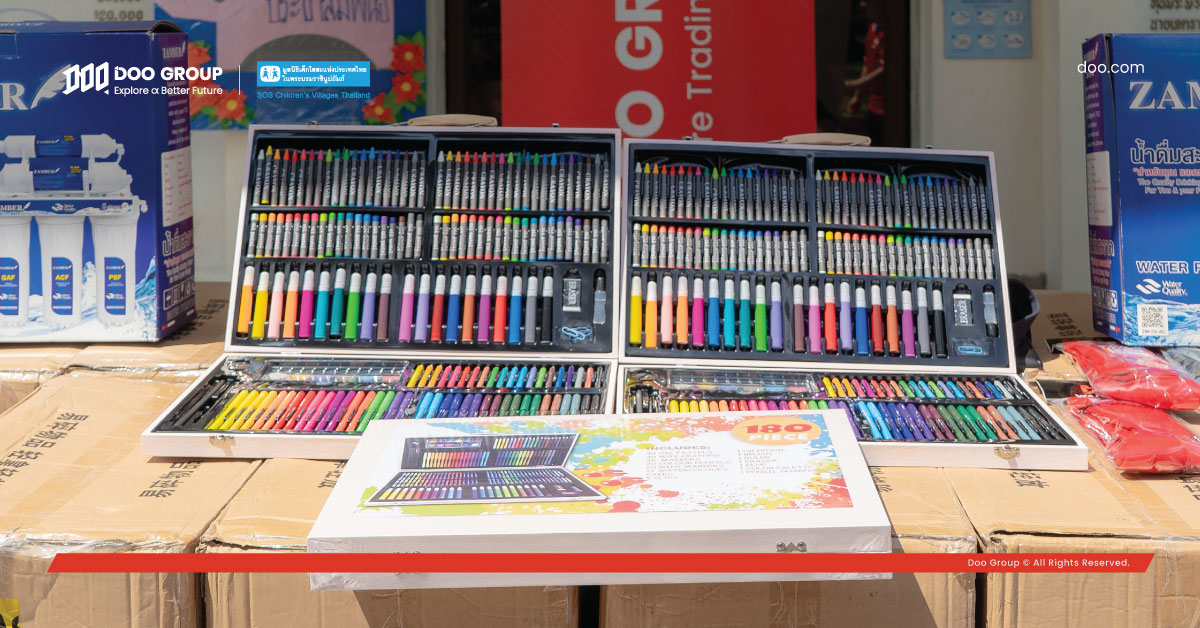 We extended our support by providing educational art materials and football gear through our partnership with Manchester United. In essence, our contributions encompass a range of materials and tools that nurture the creativity of these children.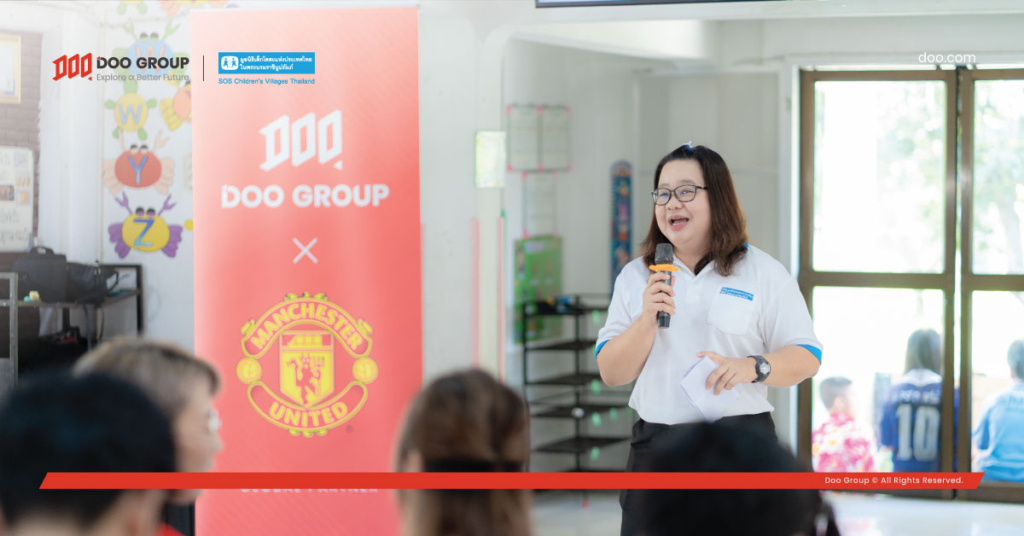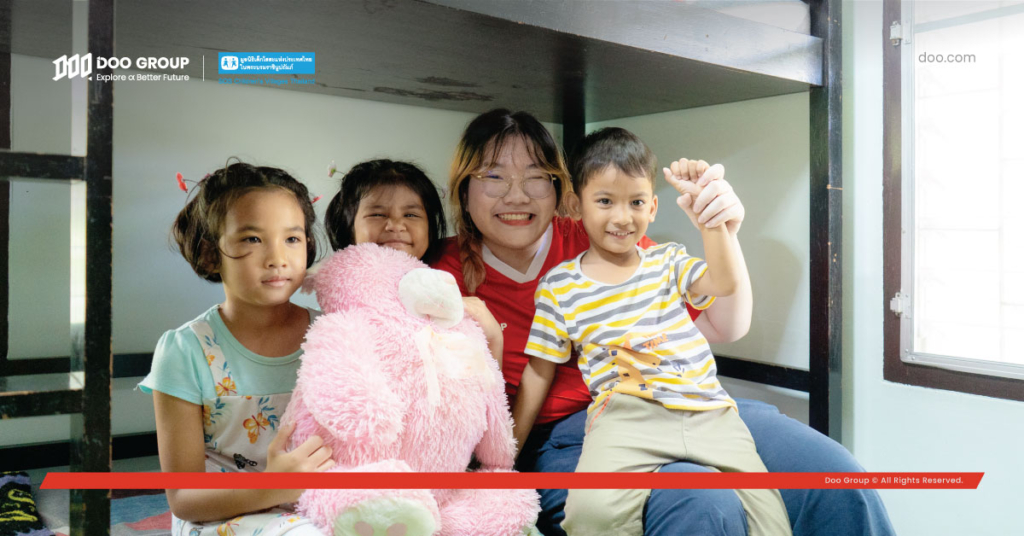 The philanthropic event began with a heartfelt speech from Ms. Chantira Somboonkerd (Deputy National Director & Fund Development and Communications Director), expressing gratitude for Doo Group's support. The children from SOS Children's Village then delighted the audience with heartwarming performances, followed by a communal lunch and a memorable photo session.
After the meal, Doo Group's representative conducted a village tour and oversaw the installation of water purification systems. The event concluded with engaging art workshops, including tote bag and pencil case painting, enthusiastically joined by every child from SOS Children's Village.

Doo Group's Commitment For A Better Tomorrow
Doo Group's strong commitment to social responsibility underscores the importance of supporting the underprivileged and making a positive impact, aligning with the company's core values. As a leading online broker, Doo Group prioritizes fulfilling its social responsibilities through robust environmental, social, and governance (ESG) practices.
Doo Group is dedicated to aiding vulnerable children facing adversity, believing that even small acts of kindness can bring about significant change. We look forward to a better tomorrow as we actively fulfill our social responsibilities and corporate values, aiming to make a meaningful difference in the lives of those in need.
About Doo Group
Doo Group, established in 2014 and headquartered in Singapore, is an international financial services group with FinTech as its core. Operating through six major business lines, including Brokerage, Wealth Management, Payment Exchange, FinTech, Financial Education, and Health Care, Doo Group continually strengthens our financial ecosystem. We are dedicated to providing comprehensive financial services and innovative solutions to clients worldwide. Together, we embark on a journey to Explore α Better Future.
Currently, the entities within Doo Group, according to their location and products, are regulated by many of the top global financial regulators, including, but not limited to the United States Securities and Exchange Commission (US SEC) and Financial Industry Regulatory Authority (US FINRA), United Kingdom Financial Conduct Authority (UK FCA), the Australian Securities & Investments Commission (ASIC), the Australian Transaction Reports and Analysis Centre (AUSTRAC), the Hong Kong Securities and Futures Commission (HK SFC), the Hong Kong Insurance Authority (HK Insurance Broker), the Hong Kong Companies Registry (HK Trust Company), the Hong Kong Customs and Excise Department (HK Money Service Operator), the Hong Kong Estate Agents Authority (HK EAA), the Malaysia Labuan Financial Services Authority (MY Labuan FSA), the Seychelles Financial Services Authority (SC FSA), Mauritius Financial Services Commission (MU FSC), and the Vanuatu Financial Services Commission (VU FSC). Doo Group has entities operating in various global locations, including Dallas, London, Sydney, Singapore, Hong Kong, Dubai, Kuala Lumpur as well as other regions.
For enquiries and further information, please contact us:
Hong Kong: +852 6701 2091
Singapore: +65 6011 1736
Email: [email protected]
Forward-looking Statement
"Forward-looking" Statements
This article contains "forward-looking statements" and may be identified by the use of forward-looking terminology such as "anticipate", "believe", "continue", "could", "estimate", "expect", "hope", "intend", "may", "might", "plan", "potential", "predict", "should", or "will", or other variations thereon or comparable terminology. However, the absence of such terminology does not mean that a statement is not forward-looking. In particular, statements about the expectations, beliefs, plans, objectives, assumptions, future events, or future performance of Doo Group will be generally assumed as forward-looking statements.
Doo Group has provided these forward-looking statements based on all current information available to Doo Group and Doo Group's current expectations, assumptions, estimates, and projections. While Doo Group believes these expectations, assumptions, estimations, and projections are reasonable, these forward-looking statements are only predictions and involve known and unknown risks and uncertainties, many of which are beyond Doo Group's control. Such risks and uncertainties may cause results, performance, or achievements materially different from those expressed or implied by the forward-looking statements.
Doo Group does not provide any representation or warranty on the reliability, accuracy, or completeness of such statements. Doo Group is not obliged to provide or release any updates or revisions to any forward-looking statements.
Risk Disclosure
This article is for information purposes only and should not be construed as investment advice. Doo Group does not make any representations or warranties regarding the accuracy or completeness of the information provided.
Please make sure you read and fully understand the risks of the products or services described in this article before engaging any transaction with us. You should seek independent professional advice if you do not understand the risks disclosed herein.
Disclaimer
This information is addressed to the general public for informational purposes only and should not be taken as investment or professional advice, recommendation, offer, or solicitation to buy or sell any products mentioned here. The information displayed here has been prepared without any reference or consideration to any particular recipient's investment objectives or financial situation. Any references to the past performance of a product shall not be taken as a reliable indicator of its future results. Doo Group makes no representations or warranties regarding the information displayed here and shall not be liable for any direct or indirect loss or damages incurred by the reader as a result of using the information provided.