Doo Group X Adelaide United Football Club: Coopers Stadium Coin Toss Marks the Start of Gold Global Partnership Journey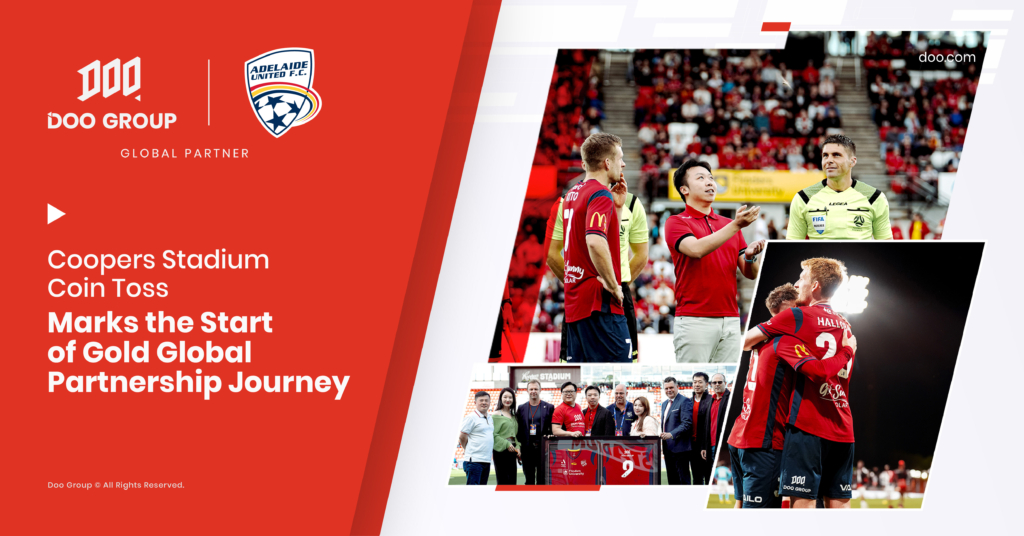 The atmosphere at Adelaide United Football Club's (AUFC) home ground, Coopers Stadium, on 29 October 2023 was nothing short of electrifying. Not only were cheers echoing the stadium for AUFC impressive 6-0 victory against Melbourne City, but also in celebration of the upgraded partnership of Doo Group with AUFC. The partnership launch event unveiled Doo Group as the Gold Global Partner of AUFC, marking another new thrilling chapter for both parties in the journey of growth, innovation and mutual success.
Doo Group and AUFC initially joined hands in 2022. Guided by shared values, both parties have been persistently challenging limits and striving toward greater heights in respective industries. Through various in-depth collaborations such as co-branded jerseys and brand interactions, Doo Group and AUFC decided to forge stronger ties in illuminating collective future.
Doo Group X AUFC: Gold Global Partnership Unveiled
To commemorate the upgraded partnership, Doo Group and AUFC initiated the Gold Global Partnership launch event. The momentous occasion included a series of activities, including Adelaide sightseeing, partnership meeting, stadium tour, signed shirt exchange and VIP match viewing experience for all Doo Group invited guests. The most significant highlight was the coin toss session, where our CEO, Windson Chan, represented Doo Group at Coopers Stadium for the Isuzu UTE A-League Men's game held on 29 October 2023.
The gesture served as powerful symbols, signifying the new beginning of a unified journey between Doo Group and AUFC. A group photo session also took place during the event, capturing and preserving the remarkable moments.
As the Gold Global Partner of AUFC, Doo Group's logo was featured on the LED display boards in the stadium and players' shorts. During the match, Doo Group and AUFC witnessed the spirit of sport – dedication, trust and unity, aligning with the core values that bring both parties together.
Forging New Horizons: Elevating Partnerships and Celebrating Innovation
Standing as a global financial services group, Doo Group have consistently seized opportunities across diverse sectors, dedicated to creating exceptional value for our clients on a global scale. The upgraded partnership solidifies our commitment to provide clients with elevated experience through cross-domain integration.
With the approach of Doo Group's 9th anniversary, this remarkable moment stands as a pivotal point in our celebration of the promising journey. We eagerly anticipate the opportunities ahead and look forward to exploring a brighter future that embodies innovation, unity, and a high benchmark of success in the financial landscape.
About Doo Group
Doo Group, established in 2014 and headquartered in Singapore, is an international financial services group with FinTech as its core. Operating through six major business lines, including Brokerage, Wealth Management, Payment Exchange, FinTech, Financial Education, and Health Care, Doo Group continually strengthens our financial ecosystem. We are dedicated to providing comprehensive financial services and innovative solutions to clients worldwide. Together, we embark on a journey to Explore α Better Future.
Currently, the entities within Doo Group, according to their location and products, are regulated by many of the top global financial regulators, including, but not limited to the United States Securities and Exchange Commission (US SEC) and Financial Industry Regulatory Authority (US FINRA), United Kingdom Financial Conduct Authority (UK FCA), the Australian Securities & Investments Commission (ASIC), the Australian Transaction Reports and Analysis Centre (AUSTRAC), the Hong Kong Securities and Futures Commission (HK SFC), the Hong Kong Insurance Authority (HK Insurance Broker), the Hong Kong Companies Registry (HK Trust Company), the Hong Kong Customs and Excise Department (HK Money Service Operator), the Hong Kong Estate Agents Authority (HK EAA), the Malaysia Labuan Financial Services Authority (MY Labuan FSA), the Seychelles Financial Services Authority (SC FSA), Mauritius Financial Services Commission (MU FSC), and the Vanuatu Financial Services Commission (VU FSC). Doo Group has entities operating in various global locations, including Dallas, London, Sydney, Singapore, Hong Kong, Dubai, Kuala Lumpur as well as other regions.
For enquiries and further information, please contact us:
Hong Kong: +852 6701 2091
Singapore: +65 6011 1736
Email: [email protected]
Forward-looking Statement
"Forward-looking" Statements
This article contains "forward-looking statements" and may be identified by the use of forward-looking terminology such as "anticipate", "believe", "continue", "could", "estimate", "expect", "hope", "intend", "may", "might", "plan", "potential", "predict", "should", or "will", or other variations thereon or comparable terminology. However, the absence of such terminology does not mean that a statement is not forward-looking. In particular, statements about the expectations, beliefs, plans, objectives, assumptions, future events, or future performance of Doo Group will be generally assumed as forward-looking statements.
Doo Group has provided these forward-looking statements based on all current information available to Doo Group and Doo Group's current expectations, assumptions, estimates, and projections. While Doo Group believes these expectations, assumptions, estimations, and projections are reasonable, these forward-looking statements are only predictions and involve known and unknown risks and uncertainties, many of which are beyond Doo Group's control. Such risks and uncertainties may cause results, performance, or achievements materially different from those expressed or implied by the forward-looking statements.
Doo Group does not provide any representation or warranty on the reliability, accuracy, or completeness of such statements. Doo Group is not obliged to provide or release any updates or revisions to any forward-looking statements.
Risk Disclosure
This article is for information purposes only and should not be construed as investment advice. Doo Group does not make any representations or warranties regarding the accuracy or completeness of the information provided.
Please make sure you read and fully understand the risks of the products or services described in this article before engaging any transaction with us. You should seek independent professional advice if you do not understand the risks disclosed herein.
Disclaimer
This information is addressed to the general public for informational purposes only and should not be taken as investment or professional advice, recommendation, offer, or solicitation to buy or sell any products mentioned here. The information displayed here has been prepared without any reference or consideration to any particular recipient's investment objectives or financial situation. Any references to the past performance of a product shall not be taken as a reliable indicator of its future results. Doo Group makes no representations or warranties regarding the information displayed here and shall not be liable for any direct or indirect loss or damages incurred by the reader as a result of using the information provided.