Doo Group Empowering Global Financial Solutions at Singapore Fintech Festival 2023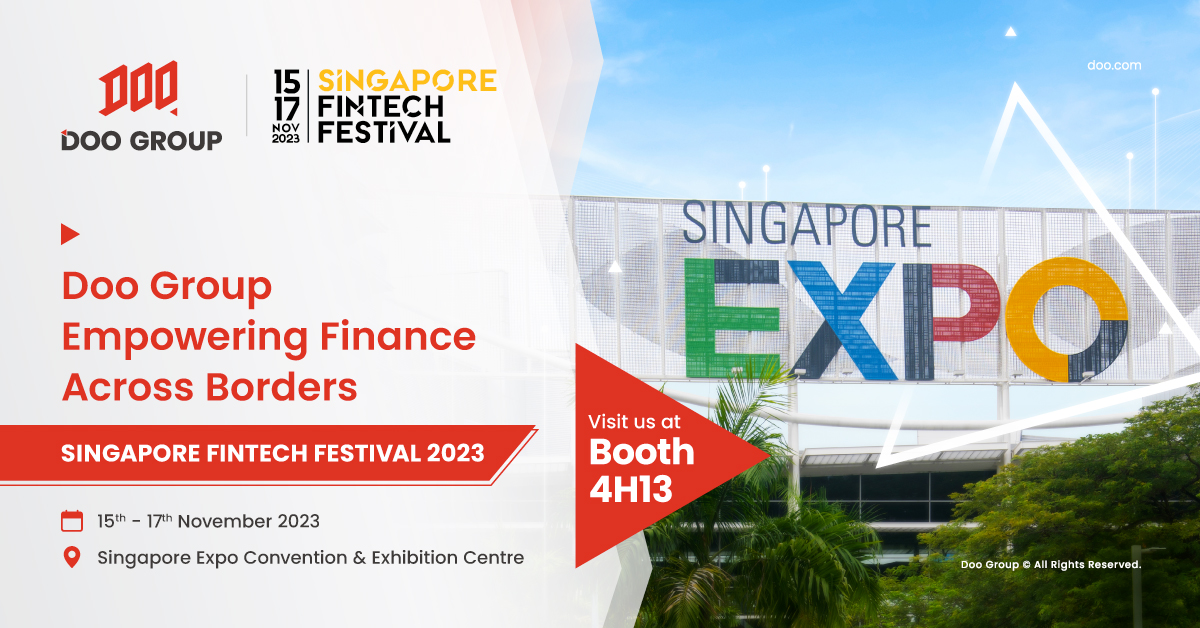 Doo Group is actively extending its global presence, with Singapore Fintech Festival 2023 as our next destination, where we're poised to deliver a comprehensive financial service with leading edge technology.
We are delighted to unveil our participation in the upcoming Singapore FinTech Festival 2023, an integral part of global FinTech events to drive development of financial infrastructures and adoption of new technology in financial industry. From November 15 to 17, 2023, you can find Doo Group showcasing its extensive range of products and services at the Singapore Expo Convention & Exhibition Centre, Booth 4H13.
At this event, Doo Group will establish itself as a prominent provider of financial solutions, highlighting our unwavering commitment to expanding financial possibilities on a global scale through our interconnected payment exchange solutions and comprehensive wealth management services.
Radiating Briliance: Doo Group's Innovative FinTech Solutions
Singapore FinTech Festival, the world's largest FinTech event, provides a premier platform for industry experts, founders, investors, policymakers, and the broader fintech community. Our participation in this annual event allows us to spotlight cutting-edge financial technology and facilitate knowledge-sharing among regulators and fintech firms worldwide.
As a global financial services group with fintech as its core, Doo Group firmly believes in the game-changing potential of fintech. In an increasingly interconnected financial world, our mission is to empower both individuals and businesses. In addition, it's worth mentioning that Doo Group sub-brand FinPoints is a registered member of the Singapore FinTech Association (SFA), working towards a likeminded goal to building a vibrant fintech ecosystem.
As Doo Group is firmly rooted in a steadfast commitment to innovation, we are eagerly poised to unveil our cutting-edge global financial solutions at this premier event. Within our integrated network, anticipate witnessing a primary emphasis on wealth management, complemented by a diverse range of other financial services, including healthcare. Through our interconnected ecosystem, we enhance connectivity and visibility, streamlining a multitude of financial activities for corporate and institutional clients.
Over the years, Doo Group continues to grow and offer a wide range of services across six pillars in the financial industry. These pillars provide a complete suite of services and financial solutions, including brokerage, wealth management, payment exchange, fintech, financial education, and health care.

Unveiling the Financial Future with Doo Group
Get the chance to experience Doo Group's global financial solutions through onsite interactive showcases. Discover how Doo Group can become your trusted partner in achieving your financial goals in the era of FinTech. We invite you to meet with our experts, fostering cross-collaboration for in-depth knowledge and experience sharing, ultimately empowering finance across borders. Mark your calendar and seize this opportunity to gain insight into the future of finance.
Event details are as follow:
Venue: Singapore Expo Convention & Exhibition Centre
Date: 15 to 17 November 2023
Time: 10:00am – 6:00pm (UTC +8)
Booth: 4H13
We are ready to take the stage at Singapore FinTech Festival 2023! See you there!
About Doo Group
Doo Group was established in 2014, currently headquartered in Singapore. After years of development, Doo Group has become a multi-faceted financial services group with financial technology as its core. With multiple sub-brands such as Doo Clearing, Doo Financial, Doo Prime, Doo Wealth, Doo Health, Doo Academy, Lesspay, FinPoints and many more, the group is committed to providing individuals and institutional clients worldwide with one-stop high-quality financial services and innovative solutions.
Currently, the entities within Doo Group, according to their location and products, are regulated by many of the top global financial regulators, including, but not limited to the United States Securities and Exchange Commission (US SEC) and Financial Industry Regulatory Authority (US FINRA), United Kingdom Financial Conduct Authority (UK FCA), the Australian Securities & Investments Commission (ASIC), the Australian Transaction Reports and Analysis Centre (AUSTRAC), the Hong Kong Securities and Futures Commission (HK SFC), the Hong Kong Insurance Authority (HK Insurance Broker), the Hong Kong Companies Registry (HK Trust Company), the Hong Kong Customs and Excise Department (HK Money Service Operator), the Hong Kong Estate Agents Authority (HK EAA), the Malaysia Labuan Financial Services Authority (MY Labuan FSA), the Seychelles Financial Services Authority (SC FSA), Mauritius Financial Services Commission (MU FSC), and the Vanuatu Financial Services Commission (VU FSC). Doo Group has entities operating in various global locations, including Dallas, London, Sydney, Singapore, Hong Kong, Dubai, Kuala Lumpur as well as other regions.
For enquiries and further information, please contact us:
Hong Kong: +852 6701 2091
Singapore: +65 6011 1736
Email: [email protected]
Forward-looking Statement
"Forward-looking"Statements
This article contains "forward-looking statements" and may be identified by the use of forward-looking terminology such as "anticipate", "believe", "continue", "could", "estimate", "expect", "hope", "intend", "may", "might", "plan", "potential", "predict", "should", or "will", or other variations thereon or comparable terminology. However, the absence of such terminology does not mean that a statement is not forward-looking. In particular, statements about the expectations, beliefs, plans, objectives, assumptions, future events, or future performance of Doo Group will be generally assumed as forward-looking statements.
Doo Group has provided these forward-looking statements based on all current information available to Doo Group and Doo Group's current expectations, assumptions, estimates, and projections. While Doo Group believes these expectations, assumptions, estimations, and projections are reasonable, these forward-looking statements are only predictions and involve known and unknown risks and uncertainties, many of which are beyond Doo Group's control. Such risks and uncertainties may cause results, performance, or achievements materially different from those expressed or implied by the forward-looking statements.
Doo Group does not provide any representation or warranty on the reliability, accuracy, or completeness of such statements. Doo Group is not obliged to provide or release any updates or revisions to any forward-looking statements.
Risk Disclosure
Trading in financial instruments involves high risks due to the fluctuation in the value and prices of the underlying financial instruments. Due to the adverse and unpredictable market movements, large losses exceeding the investor's initial investment could incur within a short period of time. The past performance of a financial instrument is not an indication of its future performance.
Please make sure you read and fully understand the trading risks of the respective financial instrument before engaging in any transaction with us. You should seek independent professional advice if you do not understand the risks disclosed by us herein.
Disclaimer
This information is addressed to the general public solely for information purposes and should not be taken as investment advice, recommendation, offer, or solicitation to buy or sell any financial instrument. The information displayed herein has been prepared without any reference or consideration to any particular recipient's investment objectives or financial situation. Any references to the past performance of a financial instrument, index, or a packaged investment product shall not be taken as a reliable indicator of its future results. Doo Group makes no representation and warranties to the information displayed and shall not be liable for any direct or indirect loss or damages as a result of any inaccuracies and incompleteness of the information provided. Doo Group shall not be liable for any loss or damages as a result of any direct or indirect trading risks, profit, or loss associated with any individual's investment.